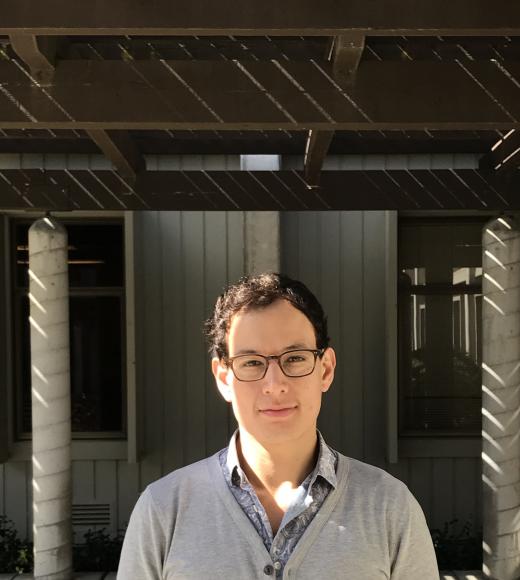 Position Title

Graduate Student in Spanish, Associate in Spanish
Bio
ADVISER(S)
Dr. Emilio Bejel & Dr. Robert M. Irwin
 
EDUCATION AND DEGREE(S)
Ph.D. (Candidate) in Spanish with an emphasis on Latin American and Caribbean Literature and Culture, University of California, Davis (in progress)
M.A. in Spanish Language & Literature, Queen's University
B.A. Hispanic Studies & Psychology, Glendon College, York University
 
RESEARCH INTEREST(S)
Latin American and Caribbean Cultural Studies
Contemporary Cuban and Mexican Cultural Production
Gender and Sexuality Studies
Queer and Affect Theory
New Materialism
Digital Humanities
Community-Based Scholarship
 
TEACHING EXPERIENCE
Spanish 1-3 (Elementary Spanish)
Spanish  1A (Intensive Elementary Spanish)
Spanish  21-22 (Intermediate Spanish)
Spanish  23 (Advanced Composition)
TA for Spanish  153 (The Latin American Short Story)
TA for Spanish 154 (The Chicano/a Novel)
TA for Spanish  172 (Mexican Cultural Studies)
TA for Spanish  177 (California and Latin America)
 
SELECTED PUBLICATIONS
"Arquitecturas de lo imposible: muerte, homoerotismo y espacio urbano en el cine de Julián Hernández", Forthcoming.
"Of A Place Beyond the Nation: Migrant Voices of Hispanic Caribbean Literature", Review. A Contracorriente 11.2 Winter 2014.
"A Window into Everyday Void: On Narcissism in Contemporary Peninsular Literature & Arts." Recent Developments in Spanish Literature and Art: Studies in Narrative Criticism. London: The Edwin Mellen Press, 2012.
 
HONORS AND AWARDS
Departmental Dissertation Writing Fellowship, 2016
Humanities Program Fellowship, 2015
HArCS Dean's Fellowship, 2015
Excellence in Teaching Award, 2014-15