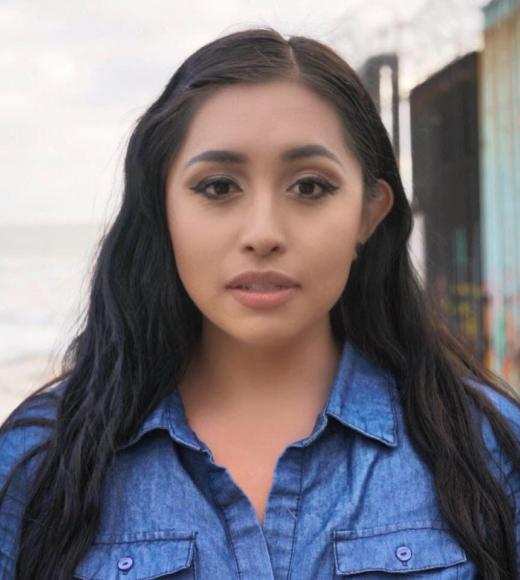 Position Title

Graduate Student in Spanish, Associate in Spanish
Office Hours
Tue & Thu 10:30-11:30AM
Bio
ADVISER(S)
Dr. Robert Irwin, Ph.D.
DEGREE(S)
Ph.D. Candidate (Current) in Spanish (Latin American Literatures and Cultures) with a Designated Emphasis in Human Rights, University of California Davis

M.A. in Spanish, GPA: 3.8, May 2016, California State University Fresno

B.A. in Spanish, GPA: 3.6, May 2013, California State University Fresno
PROFILE
Lizbeth De La Cruz Santana is a fourth year Ph.D. Candidate at the University of California Davis working towards a Ph.D. in Spanish with an emphasis on Human Rights. She received her B.A. and M.A. from Fresno State. 
While studying at Fresno State she was the senior editor for Revista Literaria Austral, Editor-in-Chief for The Collegian's La Voz de Aztlán, graduate student representative in the President's Commission on Human Relations and Equity, Media Director for Caravana 43 Fresno and an active member and officer of various student clubs and organizations.
In UC Davis, as part of her dissertation work, De La Cruz inquires on the deportation and deportability of Childhood Arrivals to the U.S. with a focus on human rights and affect theory. 
RESEARCH INTEREST(S)
Engaged Digital Public Scholarship and Humanities, Testimonial Literature, Mexican, Mexican-American, Chicano/a Literature and Art, Border Studies: U.S. and Mexico, Storytelling, Story mapping.  
Her academic scholarship emphasizes a Publicly Engaged Digital Humanities approach through fieldwork in the U.S.-Mexico Border. Her role as a facilitator for the DACAmented: DREAMS without Borders (lizbethdelacruzsantana.com/dacamented-archive) and Humanizing Deportation (humanizandoladeportacion.ucdavis.edu/) Digital Storytelling projects provide the platform for undocumented (im)migrants and deportees to participate as knowledge creators. 
In the summer of 2017, De La Cruz participated as a Graduate Research Assistant for Humanizando la Deportación (http://humanizandoladeportacion.ucdavis.edu/en/), a bi-national effort to put a human face to deportation in the Tijuana, Mexico – U.S. border.
Through the HArCS Dean's Summer Fellowship, the Mellon Summer Research Fund and the GSoC Summer Research Award De La Cruz has worked as the project coordinator for DACAmented: DREAMs without Borders - Digital Storytelling Project (http://dacamentedarchive.com/). This platform serves scholarship and activism purposes through documenting the experience of undocumented youth in the United States who have benefited from the deferred action program known as DACA.
As a 2019 Public Mellon Scholar, Lizbeth directed the Playas de Tijuana Mural Project (lizbethdelacruzsantana.com/mural-project), a community mural in Friendship Park in the U.S.-Mexico Border. The mural aims to expose the myriad of stories behind the United State's Childhood Arrivals dilemma. She envisioned this digital artivism project as part of her doctoral dissertation. 
Through her participation as a 2019 Imagine America PAGE Fellow, Lizbeth intends to apply her research and fieldwork on the deportation of childhood arrivals by co-developing with Danilo Castillo a migri-guide app for deportees in Tijuana, Mexico.

TEACHING EXPERIENCE
Teaching Assistant - University of California, Davis  
SPA 174   Chicano Culture Fall 2019 
SPA 177   California y Américal Latina Spring 2019
Associate Instructor - University of California, Davis  
SPA 1    Elementary Spanish    Fall 2017
SPA 2    Elementary Spanish Winter 2017, Spring 2017, Fall 2018, Winter 2018
SPA 3    Elementary Spanish   Spring 2018 
SPA 31  Spanish for Native Speakers I Fall 2018, Winter 2019 
Teaching Associate - California State University, Fresno 
SPA 1    Elementary Spanish Fall 2015
SPA 2    Elementary Spanish               Spring 2016 

SELECTED PUBLICATIONS
"Repatriated Childhood Arrivals Challenging the U.S. Deportation Regime." Humanizing Deportation. 2020. Forthcoming. 

"DACAmentados: Sueños sin fronteras – Proyecto de narrativa digital". Cultura en América Latina: prácticas, significados, cartografías y discusiones. Editors: David Bautista Toledo, César E. Jiménez Yañez, Christian Alonso Fernández Huerta. Mexicali, Baja California: Universidad Autónoma de Baja California, 2017.

Narración y memoria en testimonios chilenos después del 11 de septiembre de 1973. M.A. Thesis. College of Arts and Humanities California State University Fresno, Fresno, California, May 2016.
HONORS AND AWARD

● Imagining America PAGE (Publicly Active Graduate Education) Fellow, 2019-2020
●Mellon Public Scholars Fellowship, 2019
● Graduate Studies Summer Stipend, 2019
● Mellon Comparative Border Studies Scholarship, 2019
● Educational Opportunity Equity (EOP) Recognition, 2018,
2019
● Curso - Taller de Proyecto Humanizado la deportación,
Universidad de California en Davis y la Cátedra de Jorge
Durand de Estudios Migratorios, Zapopan, Jalisco, Mexico,
● Hemispheric Institute on the Americas Summer Research
Award, 2018
● Digital Humanities Institution Reading and Writing Group
Award, 2017-2018
● Digital Humanities Institute HArCS Dean's Summer
Fellowship, 2017
● Mellon Summer Research Fellowship​, 2017, 2018
● Asociación Internacional de Literatura y Cultura Femenina
Hispánica (AILCFH) Graduate Student Scholarship, October,
2017
● Graduate Student of Color Research Award​​, Summer 2017,
Summer 2018, Summer 2019
● Narrativa Digital como Método de Investigación: Colaboración
Comunitaria, Voz Vernácula – On behalf of the Masters and
Doctoral program of Cultural Studies in El Colegio de la
Frontera Norte, Tijuana, Baja California, Mexico, November
2016