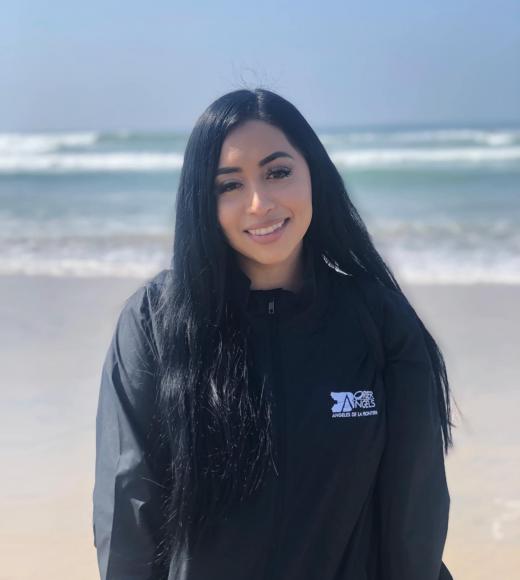 Position Title

Graduate Student in Spanish, Associate in Spanish

UC President's Pre-Professoriate Fellow, 2020-2021

UCLA Law Fellow - Central Valley, 2020
Bio
ADVISER(S)
Dr. Robert Irwin, Ph.D.
DEGREE(S)
Ph.D. Candidate (Current) in Spanish (Latin American Literatures and Cultures) with a Designated Emphasis in Human Rights, University of California Davis

M.A. in Spanish, GPA: 3.8, May 2016, California State University Fresno

B.A. in Spanish, GPA: 3.6, May 2013, California State University Fresno
PROFILE
Lizbeth De La Cruz Santana is a fifth year Ph.D. Candidate at the University of California Davis working towards a Ph.D. in Spanish with an emphasis on Human Rights. She received her B.A. and M.A. from Fresno State. 
While studying at Fresno State she was the senior editor for Revista Literaria Austral, Editor-in-Chief for The Collegian's La Voz de Aztlán, graduate student representative in the President's Commission on Human Relations and Equity, Media Director for Caravana 43 Fresno and an active member and officer of various student clubs and organizations.
In UC Davis, as part of her dissertation work, De La Cruz inquires on the deportation and deportability of Childhood Arrivals to the U.S. with a focus on human rights and affect theory. 
RESEARCH INTEREST(S)
Engaged Digital Public Scholarship and Humanities, Testimonial Literature, Mexican, Mexican-American, Chicano/a Literature and Art, Border Studies: U.S. and Mexico, Storytelling, Story mapping.  
Her academic scholarship emphasizes a Publicly Engaged Digital Humanities approach through fieldwork in the U.S.-Mexico Border. Her role as a facilitator for the DACAmented: DREAMS without Borders (lizbethdelacruzsantana.com/dacamented-archive) and Humanizing Deportation (humanizandoladeportacion.ucdavis.edu/) Digital Storytelling projects provide the platform for undocumented (im)migrants and deportees to participate as knowledge creators. 
In the summer of 2017, De La Cruz participated as a Graduate Research Assistant for Humanizando la Deportación (http://humanizandoladeportacion.ucdavis.edu/en/), a bi-national effort to put a human face to deportation in the Tijuana, Mexico – U.S. border.
Through the HArCS Dean's Summer Fellowship, the Mellon Summer Research Fund and the GSoC Summer Research Award De La Cruz has worked as the project coordinator for DACAmented: DREAMs without Borders - Digital Storytelling Project. This platform serves scholarship and activism purposes through documenting the experience of undocumented youth in the United States who have benefited from the deferred action program known as DACA.
As a 2019 Public Mellon Scholar, Lizbeth directed the Playas de Tijuana Mural Project (lizbethdelacruzsantana.com/mural-project), a community mural in Friendship Park in the U.S.-Mexico Border. The mural aims to expose the myriad of stories behind the United State's Childhood Arrivals dilemma. She envisioned this digital artivism project as part of her doctoral dissertation. 
Through her participation as a 2019 Imagine America PAGE Fellow, Lizbeth intends to apply her research and fieldwork on the deportation of childhood arrivals by co-developing with Danilo Castillo a migri-map app for deportees in Tijuana, Mexico.
Currently, as part of her dissertation work, she has coined the Childhood Arrivals Diaspora term. A concept that inquieres on the forced expulsion of childhood arrivals to the U.S. through thr aparatus of deportation. Additionally, in order to think through more ethical approaches to childhood arrivals, De La Cruz has introduced a broad definition takes into account several different migration paths to better identify childhood arrivals. Her dissertation will review the ways in which this broad definition exceeds those incorporated into DACA and proposals for the DREAM Act, questioning the ethical legitimacy of the limits of these programs.  

In the summer of 2020 as an  Imagining America's Leading and Learning Initiative (LLI) Fellow for the Mellon Public Scholars Program, De La Cruz will engage in action research, national networking, and the production of interactive tools and media for change agents who advocate for institutional change on behalf of public and activist scholarship.  This project is supported jointly by Imagining America and the UC Davis Humanities Institute. The Leading and Learning Initiative is a national project funded by the Andrew W. Mellon Foundation. 

TEACHING EXPERIENCE
Teaching Assistant - University of California, Davis  
SPA 174   Chicano Culture Fall 2019 
SPA 177   California y Américal Latina Spring 2019, 2020
Associate Instructor - University of California, Davis  
SPA 1    Elementary Spanish  Fall 2017
SPA 2    Elementary Spanish Winter 2017, Spring 2017, Fall 2018, Winter 2018
SPA 3    Elementary Spanish  Spring 2018 
SPA 31  Spanish for Native Speakers I Fall 2018, Winter 2019 
Teaching Associate - California State University, Fresno 
SPA 1    Elementary Spanish Fall 2015
SPA 2    Elementary Spanish Spring 2016 

SELECTED PUBLICATIONS
HONORS AND AWARDS (selected) 
UC President's Pre-Professoriate Fellowship (PPPF), 2020-2021 

UCLA Law Fellows Program Central Valley (

LFP-CV​)

, 2020 

Imagining America's Leading and Learning Initiative (LLI) Fellow for the Mellon Public Scholars Program, 2020
Imagining America PAGE (Publicly Active Graduate Education) Fellow, 2019-2020
Mellon Public Scholars Fellowship, 2019
Graduate Studies Summer Stipend, 2019
Mellon Comparative Border Studies Scholarship, 2019
Educational Opportunity Equity (EOP) Recognition, 2018, 2019
Curso - Taller de Proyecto Humanizado la deportación, Universidad de California en Davis y la Cátedra de Jorge Durand de Estudios Migratorios, Zapopan, Jalisco, Mexico,
Hemispheric Institute on the Americas Summer Research Award, 2018
Digital Humanities Institution Reading and Writing Group Award, 2017-2018
Digital Humanities Institute HArCS Dean's Summer Fellowship, 2017
Mellon Summer Research Fellowship​, 2017, 2018
Asociación Internacional de Literatura y Cultura Femenina Hispánica (AILCFH) Graduate Student Scholarship, October, 2017
Graduate Student of Color Research Award​​, Summer 2017, Summer 2018, Summer 2019
Narrativa Digital como Método de Investigación: Colaboración Comunitaria, Voz Vernácula – On behalf of the Masters and Doctoral program of Cultural Studies in El Colegio de la Frontera Norte, Tijuana, Baja California, Mexico, November 2016