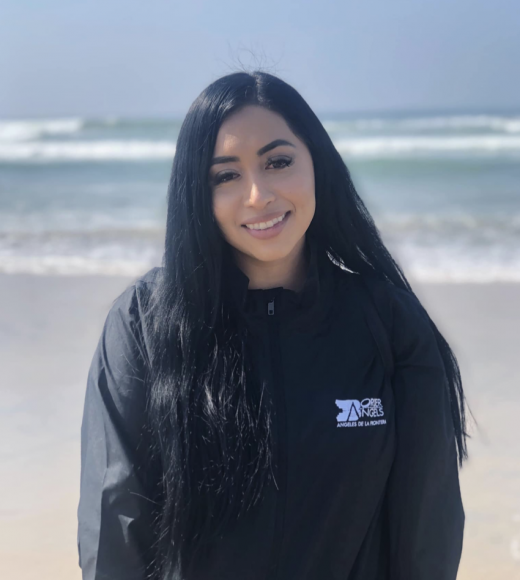 Position Title

Graduate Student in Spanish
Bio
ADVISER(S)
Dr. Robert Irwin, Ph.D.
PROFILE
Lizbeth De La Cruz Santana is a Ph.D. Candidate at the University of California Davis working towards a Ph.D. in Spanish Latin American Literatures, with a designated emphasis on Human Rights. 
She received her B.A. and M.A. in Spanish Literature and Cultures from Fresno State. 
For more, visit: lizbethdelacruzsantana.com 

TEACHING EXPERIENCE
Associate Instructor - University of California, Davis  
SPA 1    Elementary Spanish Fall 2016, Summer 2021
SPA 2    Elementary Spanish Winter 2017, Spring 2017, Fall 2018, Winter 2018
SPA 3    Elementary Spanish  Spring 2018, Summer 2018 session II
SPA 31  Spanish for Native Speakers I Fall 2018, Winter 2019 
SPA 169 Topics, Chicanx/Latinx Fall 2021
Teaching Assistant - University of California, Davis  
SPA 174   Chicano Culture Fall 2019 
SPA 177   California y Américal Latina Spring 2019, 2020

SELECTED PUBLICATIONS
Book Chapter(s) 
Article(s) 
Installment(s)
HONORS AND AWARDS (selected) 
National Humanities Center Podcasting in the Humanities Fellowship, 2020-2021

UC President's Pre-Professoriate Fellowship (PPPF), 2020-2021 

UCLA Law Fellows Program Central Valley (

LFP-CV​)

, 2020 

Imagining America's Leading and Learning Initiative (LLI) Fellow for the Mellon Public Scholars Program, 2020
Imagining America PAGE (Publicly Active Graduate Education) Fellow, 2019-2020
Mellon Public Scholars Fellowship, 2019
Graduate Studies Summer Stipend, 2019
Mellon Comparative Border Studies Scholarship, 2019
Educational Opportunity Equity (EOP) Recognition, 2018, 2019
Curso - Taller de Proyecto Humanizado la deportación, Universidad de California en Davis y la Cátedra de Jorge Durand de Estudios Migratorios, Zapopan, Jalisco, Mexico,
Hemispheric Institute on the Americas Summer Research Award, 2018
Digital Humanities Institution Reading and Writing Group Award, 2017-2018
Digital Humanities Institute HArCS Dean's Summer Fellowship, 2017
Mellon Summer Research Fellowship​, 2017, 2018
Asociación Internacional de Literatura y Cultura Femenina Hispánica (AILCFH) Graduate Student Scholarship, October, 2017
Graduate Student of Color Research Award​​, Summer 2017, Summer 2018, Summer 2019
Narrativa Digital como Método de Investigación: Colaboración Comunitaria, Voz Vernácula – On behalf of the Masters and Doctoral program of Cultural Studies in El Colegio de la Frontera Norte, Tijuana, Baja California, Mexico, November 2016
Education and Degree(s)
Ph.D. Candidate (Current) in Spanish (Latin American Literatures and Cultures) with a Designated Emphasis in Human Rights, University of California Davis
M.A. in Spanish, GPA: 3.8, May 2016, California State University Fresno
B.A. in Spanish, GPA: 3.6, May 2013, California State University Fresno
Honors and Awards
UC President's Pre-Professoriate Fellow, 2020-2021
Research Interests & Expertise
20th and 21st Century Mexican, Mexican-American Literature and Culture
Engaged Digital Public Scholarship and Humanities
Testimonial Literature
Chicano/a Literature and Art, Border Studies: U.S. and Mexico
Memory Studies
Storytelling
Story mapping