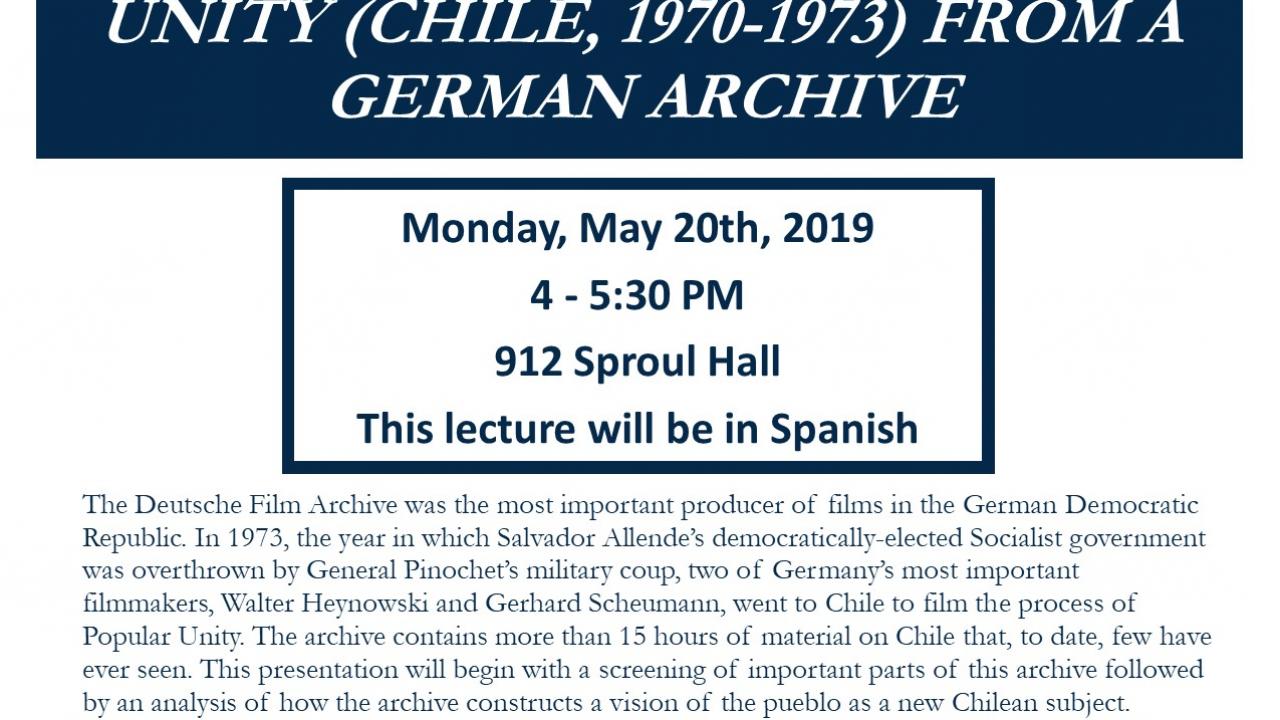 The Department of Spanish and Portuguese Presents
A Lecture by Verónica Troncoso, Universidad de Konstanz / Universidad de Chile
"Fragments of Utopia: Recovering Images of Popular Unity (Chile, 1970-1973) from a German Archive"
Monday, May 20th, 2019
4 - 5:30 PM
912 Sproul Hall
This lecture will be in Spanish
The Deutsche Film Archive was the most important producer of films in the German Democratic Republic. In 1973, the year in which Salvador Allende's democratically-elected Socialist government was overthrown by General Pinochet's military coup, two of Germany's most important filmmakers, Walter Heynowski and Gerhard Scheumann, went to Chile to film the process of Popular Unity. The archive contains more than 15 hours of material on Chile that, to date, few have ever seen. This presentation will begin with a screening of important parts of this archive followed by an analysis of how the archive constructs a vision of the pueblo as a new Chilean subject.
Multimedia artist Verónica Troncoso holds a Master's Degree in Visual Arts and has worked as Assistant Professor in the Art School at the University of Chile, where she held the Chair in Archival Construction until 2017.
She is currently a Ph.D. candidate at the University of Konstanz, Germany, where she conducts research on Chilean exile archives in Germany during Pinochet's dictatorship(1973-1989). Her research is funded by a DAAD-Conicyt scholarship.
Information on her artistic production can be found at www.veronicatroncoso.cl and www.artemasarchivo.cl.