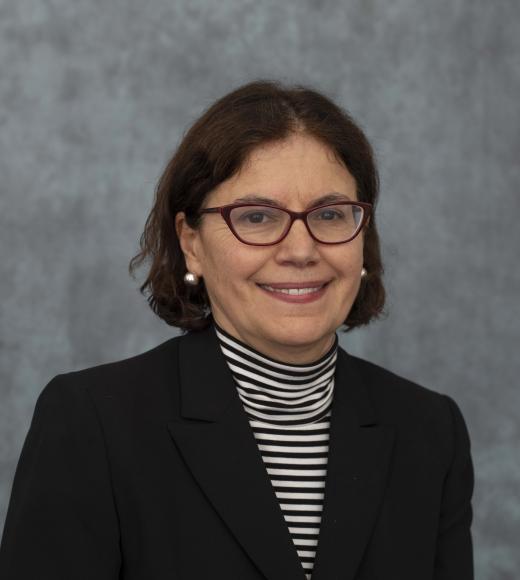 Position Title

Department Chair of Spanish and Portuguese

Professor of Latin American Literatures and Cultures

Co-Chair Nineteenth-Century Studies Section (LASA)

Affiliated Faculty of Women and Gender Studies, Cultural Studies and Comparative Literature
Office Hours
Spring: Fridays 10:00-12:00.
Bio
EDUCATION AND DEGREE(S)
Ph.D., New York University
BA, Sarah Lawrence College
RESEARCH INTEREST(S)
Affect and Emotions
Sexuality Studies
Nineteenth-century Cultural Studies
Transnational Feminisms
Gender and Race
Latin American Cinemas
COURSE(S) TAUGHT
Spanish 153: The Latin American Short Story
Spanish 159: Visions of Childhood in Latin America
Spanish 160: Latin American Women Writers
Spanish 170: Introduction to Latin American Cultures
Spanish 173: Youth Cultures in New Argentine Film
Spanish 175: Gender and Race in Latin America
Spanish 175S: Icons of Argentine Cultures (Summer Abroad)
Spanish 273: Affect Theory in Latin America
Spanish 274: Gender and Sexuality in Latin America
Spanish 274: The Culture of Emotions in Latin America
SELECTED PUBLICATIONS
BOOKS AND SPECIAL ISSUES
En clave emocional: Cultura y afecto en América Latina. Buenos Aires: Prometeo, 2016.
Lágrimas andinas: Sentimentalismo, género y virtud republicana en Clorinda Matto de Turner. University of Pittsburgh: Instituto Internacional de Literatura Iberoamericana, 2006.
Entre hombres: Masculinidades del siglo XIX en América Latina. Co-edited with Ignacio Sánchez Prado. Frankfurt/Madrid: Veurveurt, 2010.
Pensar el siglo XIX desde el siglo XXI. Neuvas miradas y lecturas. A contracorriente, Ana Peluffo, editor. A contracorriente, North Carolina State University, 2009 (http://www.ncsu.edu/acontracorriente/fall_09/index.htm).
TRANSLATED BOOKS
La señora de la caja de cartón. Anne McGovern. Translated by Ana Peluffo. New York: Turtle Books. 1997.
Los cuentos de Pueblo. Dianne Hoyt Goldsmith. Translated by Ana Peluffo. New York: Macmillan Publishing. 1993.
SELECTED ARTICLES AND CHAPTERS
"That Damned Mob of Scribbling Women: Gendered Networks in Fin de Siécle Latin America (1898-1920)". Mónica Szurmuk and Ileana Rodríguez, eds. The Cambridge History of Latin American Women's Literature. Cambridge: Cambridge University Press, 2016. 164-180.
"Alianzas líquidas en la novela antiesclavista del siglo XIX". Karina, Miller, ed. Revista Iberoamericana. Special issue on Politics of Emotion and Affect in Latin America. Pittsburgh: IILI 2016.
Fernández, Pura, ed. "Rizomas, redes y lazos transatlánticos: América Latina y España (1890-1920)". En: No hay nación para este sexo. La Re(d)pública trasatlántica de las letras: escritoras españolas y latinoamericanas (1824-1936). Madrid/Frankfurt: Iberoamericana/Vervuert. 2015. 207-224.
"Borges y la cultura de las emociones". Variaciones Borges 39 (2015): April 2015. 3-22.
"Sangre, sudor y lágrimas en Sab de Gertrudis Gómez de Avellaneda". Redes, alianzas y afinidades: escritura de mujeres en América Latina. Alzate, Carolina, ed. Bogotá: Universidad de los Andes, 2014. 3-16.
"Gauchos que lloran: Masculinidades sentimentales en el imaginario criollista". Cuadernos de literatura vol 17, número 33. Enero-junio 2013. 187-201.
"Emoción, afectividad y sentimiento en la construcción del pasado setentista". En: El lenguaje de las emociones. Mabel Moraña e Ignacio Sánchez Prado, eds. Iberoamericana: Vervuert, 2012. 173-190.
"Cartografías de la intimidad en 'Mi manuel' de Adriana González Prada". En: Claire Martin and Nelly Goswitz, eds. Retomando la palabra: Las pioneras del siglo XIX en diálogo con la nación. Madrid/Frankfurt: Iberoamericana, Vervuert, 2012. 185-205.
"Staging Ethnicity in Lucrecia Martel's La ciénaga". New Approaches to Argentine and Brazilian Film. Carolina Rocha and Cacilda Rego, eds. Intellect Publishing, 2011. 211-223.
"Anticlericalismo y género en 'Las esclavas de la iglesia' de Manuel González Prada". Nuevas aproximaciones a Manuel González Prada (para el tercer milenio). Ed. Thomas Ward. Lima: Red para el Desarrollo de las Ciencias Sociales en el Perú. 2010.
"La fetichización de la infancia en La edad de oro de José Martí". Entre Hombres: Masculinides del siglo XIX en América Latina. Madrid/Frankfurt; Iberoamerikana, 2010. 234-254.
"The Scandal of Naturalism in Nineteenth-Century Peru". Au naturel. Essays on Naturalism in Latin America. J-P Spicer Escalante, ed. Cambridge Scholars Publisher (Newcastle, UK), 2010. 117-134.
"Heroic Masculinities and the War of the Pacific". Culture and Violence in the Andes. Milos Kokotovic and Christine Hunenfeld, eds. London: Sussex University Press 2009. 85-96.
"Caridad y género: El imperio de la solidaridad femenina en el siglo XIX". Género y asistencia social en América Latina. Yolanda Erasso, editor, Buenos Aires: Editorial Ferreyra. 2009. 33-85.
"El yo femenino y sus 'otros': de la beneficiencia y la construcción de identidades en el siglo XIX". Cuadernos de Literatura Vol. 13/25"Ficciones de la escritura y polìticas de la representación en el siglo XIX Latinoamericano" Jeffrey Cedeño, ed. Bogotá: Universidad Simón Bolivar, 2008. 08-23.
"Dandies, indios y otras representaciones de la masculinidad en  Manuel González Prada". Ed. Sergio Ramírez Franco. Literatura y culturas de la región andina. Revista Iberoamericana vol LXXIII, núm 220, 2007. 471-486.
"The Boundaries of Sisterhood: Class and Gender in the Mothers and Grandmothers of Plaza de Mayo". A  Contracorriente 4 (2007): 77-102.
"Emilia Pardo Bazán lee Lucecitas de Teresa González de Fanning". Siglo diecinueve (literatura hispánica). No. 13. (2007): 65-74.
"Alegorías de la Bella Bestia: Salomé en Rubén Darío". The Colorado Review of Hispanic Studies 3: Special Issue on "Demons of Nineteenth-Century Hispanic Literatures." Ed. Juan Pablo Dabove. The Colorado Review of Hispanic Studies. Volume 4, Fall 2006. 293-308.
"El ennui y la invención de la barbarie en Flora Tristán y Etiénne de Sartiges". América Latina: Giro Óptico. Nuevas visiones de y sobre los estudios culturales. Ed. Ignacio Sanchez Prado. Puebla: Secretaría de cultura. México: Colibrí, 2006.
"Homo-sentimentalismo, fraternidad y lágrimas en José Martí". Confluencia: Revista Hispánica de cultura y literatura 21 (2006).
"'De todas las cabezas quiero tu cabeza': Figuraciones de la femme fatale en Delmira Agustini". Chasqui: Revista de literatura latinoamericana 34 (2005): 131-144.
"Desencuentros de la sororidad republicana en el Perú de fin de siglo". Entre mujeres: Colaboraciones, influencias e intertextualidades en la literatura y el arte latinoamericanos. María Claudia André y Patricia Rubio, editors. Santiago del libro: Red Internacional del Libro: 2005. 141-153.
"Why Can't an Indian be More Like a Man?  Sentimental Collaborations in Clorinda Matto de Turner and Manuel González Prada." Revista de Estudios Hispánicos 38 (2004): 3-21.
"Latin American Ophelias: The Aesthetization of Female Death in Nineteenth-Century Poetry".  Latin American Literary Review 32 (2004): 64-78.
"Bajo las alas del ángel de caridad: Indigenismo y beneficencia en el Perú republicano." In Políticas de género en América Latina. Ed. Lelia Area. Special Issue of Revista Iberoamericana. Pittsburgh: Revista Iberoamericana, 2004. 103-115.
"Decadentismo y necrofilia: El culto a la amada muerta en la poesía de fin de siglo" In: Ficciones y silencios fundacionales: Literaturas y culturas postcoloniales en América Latina. Ed. Friedhelm Schmidt-Welle. Frankfurt/Madrid/Caracas: Vervuert/Iberoamericana/La Nave Va, 2003: 239-253.
"El indigenismo como máscara: Antonio Cornejo Polar ante la obra de Clorinda Matto de Turner." In Antonio Cornejo Polar y los estudios culturales en América Latina. Ed. Friedhelm Schmidt-Welle. Berlin: Ibero-AmeriKanisches Institute, 2002: 213-233.
"Prostitutas y costureras en el paisaje urbano de Mercedes Cabello de Carbonera: Las trampas del naturalismo en Blanca Sol." Revista de Crítica literaria Latinoamericana 55 (2002): 37-52.
"Biografía, autobiografía y género: 'La Mariscala' vista por Clorinda Matto de Turner." Nómada 5 (2000): 38-45.
"El poder de las lágrimas: Sentimentalismo, género y nación en Aves sin nido."  In Indigenismo hacia el fin del milenio. Homenaje a Antonio Cornejo-Polar. Ed. Mabel Moraña. Pittsburgh: Instituto  Internacional de Literatura Iberoamericana (1998): 118-138.