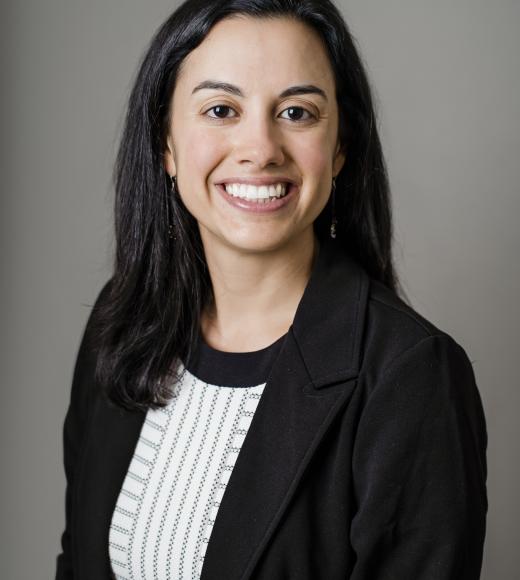 Position Title

Associate Professor of Spanish
Bio
EDUCATION & DEGREES
Ph.D., University of Chicago, Chicago, IL
HONORS AND AWARDS
2020   Accelerate Fellow Program, Center for Educational Effectiveness, UC Davis
2019    Woodrow Wilson Career Enhancement Fellowship, The Woodrow Wilson National Fellowship Foundation
2019    Award for Excellence in Service to Graduate Students, UC Davis Graduate Student Association 2018-2019, UC Davis
2018    Davis Humanities Institute Faculty Research Seminar
2018    Faculty Appreciation Certificate, Educational Opportunities Program, UC Davis
2017    Premio Victoria Urbino por Monografía Crítica, Asociación Internacional de Literatura y Cultura Femenina Hispánica
2017    Diversity and Inclusion Grant, UC Davis
COURSES
Spanish 224: Gender Violence, Victimhood, and Female Resistance in Contemporary Hispanic Fiction (Winter 2021)
Spanish 139: Modern Theater (Fall 2020)
Spanish 224 Graduate Seminar: Aftershocks of 2008: Examining Crises in Contemporary Spanish Fiction and Visual Culture (Spring 2020)
Spanish 142: Responding to 2008: Examining Crises in Contemporary Spanish Fiction and Visual Culture (Spring 2020)
Spanish 224 Graduate Seminar: Between Bodies: Examining Illness Narratives in Contemporary Hispanic Literature and Film (Spring 2019)
Spanish 142 Special Topics: Women Writers of Spain (Fall 2020, Winter 2019, Winter 2018)
Spanish 100: Principles of Hispanic Literature and Criticism (Winter 2019, Winter 2017)
First Year Seminar: Between Illness and Fiction: Examining Representations of the Sick Body in Literary and Visual Narratives (Winter 2019)
Spanish 265 Graduate Seminar: Women Writers of Spain (Spring 2018)
Humanities 2A "Too Big to Fail": Crisis in the Iberian Peninsula (Spring 2018)
Spanish 137: Twentieth-Century Spanish Fiction (Winter 2018)
Spanish 224 Graduate Seminar: From Femme Fatale to Private Eye: The Female Character in Hispanic Crime Fiction (Spring 2017)
Spanish 137: Twentieth-Century Crime Fiction: Femicrime (Winter 2021, Winter 2017
RESEARCH & EXPERTISE
20th-21st-Century Iberian and Latin American Literatures and Cultures
Contemporary Crime Fiction
Gender and Sexuality Studies
Transatlantic Studies
Graphic Narratives
Illness Narratives
Graphic Medicine
Motherhood Narratives
Visual and Media Culture (Film, TV, Music, Photography, Painting)
Crisis Studies
Selected Academic Publications
Books:
Resisting Invisibility: Detecting the Female Body in Spanish Crime Fiction. Toronto: University of Toronto Press (May 2019):  https://utorontopress.com/ca/resisting-invisibility-2 . Winner of the 2017 Premio Victoria Urbino por Monografía Crítica from the Association of Gender and Sexuality Studies (AEGS).
Current Projects:
Crisis Unleashed: Crime, Turmoil, and Protest in Hispanic Literature and Visual Culture, collective volume edited by Diana Aramburu and Nick Phillips
Between Bodies: Illness and Transformation in Hispanic Women's Graphic Narratives (book project)
 ¡Vivas nos queremos!: La epidemia del feminicidio y la violencia de género en Puerto Rico y en la diáspora, número especial de CENTRO Journal, editoras invitadas Diana Aramburu y Tania Carrasquillo Hernández. 
Articles and Chapters:
2021     "Celebrating Erotic Autonomy: Decolonizing Desire in Vanessa Vilches Norat's 'Del dulce olor de sus pechos.'" Forthcoming in Confluencia Volume 36. 2 (Spring 2021).
2021    "Politicizing Vulnerability: Representing a Parental Crisis in Empar Fernández's Mauricio Tedesco Stories." Forthcoming in Revista de Estudios Hispánicos.
2021    "'El Estado opresor es un macho violador': Performing Strategic Responses to Rape and Femicide in Anna Maria Villaonga's 'Las vergüenzas' and Susana Hernández's 'El hombre del espejo.'" Forthcoming in Ámbitos Feministas.
2020    "Searching for Answers in Fiction?: Examining the Femicide and Gender Violence Crises in Literature Courses." Forthcoming in Hispania 103.3 (2020): 315-323.
2020    "Reading from the Lesbian Detective Body: Queering Pleasure and Pain in Clara Asunción García's Cate Maynes Novels." Women Writers of Female Crime Series in the XXI Century in Spain, edited by Inmaculada Pertusa Seva and Melissa Stewart, Cambridge Scholars Publishing. Forthcoming in 2020.
2019    "Las caras invisibles de Barcelona: reescribiendo los espacios de la delincuencia en las novelas gris asfalto de Anna María Villalonga." Papeles del crimen: mujeres y violencia en la ficción criminal, edited by María Xesús Lama, Elena Losada, and Dolores Resano, Edicions de la Universitat de Barcelona, pp. 91-102.
2019    Aramburu, Diana and Jeffrey K. Coleman. "Special Focus Introduction. Set Up and Shut Out: Immigration and Criminality in Contemporary Spanish Fiction." Studies in 20th & 21stCentury Literature. 43.2 (June 2019): Article 5.
2019    "The Mother Narrative Transformed: Criminalizing the Immigrant Mother in Jordi Sierra i Fabra's "Barrios altos." Studies in 20th & 21stCentury Literature. 43.2 (June 2019): Article 11.
2018     "Misreading Higinia Balaguer in Galdós's El crimen de la calle de Fuencarral." Hispanófila 184 (December 2018): 23-38.
2018    "A Journey through Breast Cancer: Exploring the Body in Process in Isabel Franc and Susanna Martín's Graphic Breast Cancer Narrative." Life Writing 16.3 (published October 2018): 397-412. doi.org/10.1080/14484528.2018.1522231
2017    "Revenge by Castration: Breaking the Narrative Thread of Rape in Maria-Antònia Oliver's Fiction." Studies in 20th & 21st Century Literature 41.1 (Spring 2017): Article 17.
2017    "Resisting Invisibility: Lesbianizing the Public Space in Isabel Franc's Emma García Stories." Hispanic Review 85.1 (Winter 2017): 47-67.
2016    "The Detective Turned Victim: The Victimization and the Visibility of the Female Body in Maria-Antònia Oliver's Lònia Guiu Series." Ámbitos Feministas 6 (2016): 79-91.
2012    "The Migrant Nation in La guagua aérea by Luis Rafael Sánchez." Cuaderno Internacional de Estudios Humanísticos y Literatura 18 (Fall 2012): 46-54.
2010    "Las fiestas afrocubanas en las marquillas cigarreras del siglo XIX: el 'Almanaque profético para el año 1866'." Afro-Hispanic Review 29.1 (Spring 2010): 11-34.
---
Committee Service
2018-2019    
Graduate Studies Internal Fellowship Review Committee, UC Davis
Graduate Committee, Department of Spanish and Portuguese
Library Committee, Department of Spanish and Portuguese
Graduate Placement, Department of Spanish and Portuguese
Faculty Advisor, Diversity and Innovation, Department of Spanish and Portuguese
Faculty Advisor, Davis Humanities Reading and Writing Group
2017-2018    
Graduate Studies Internal Fellowship Review Committee, UC Davis
Fulbright Interview Panel, UC Davis
Graduate Committee, Department of Spanish and Portuguese
Undergraduate Committee, Department of Spanish and Portuguese
Library Committee, Department of Spanish and Portuguese
Graduate Placement, Department of Spanish and Portuguese
Faculty Advisor, Diversity and Innovation Grant, UC Davis
Faculty Advisor, Davis Humanities Reading and Writing Group
2016-2017    
Undergraduate Committee, Department of Spanish and Portuguese
Library Committee, Department of Spanish and Portuguese
Graduate Placement, Department of Spanish and Portuguese