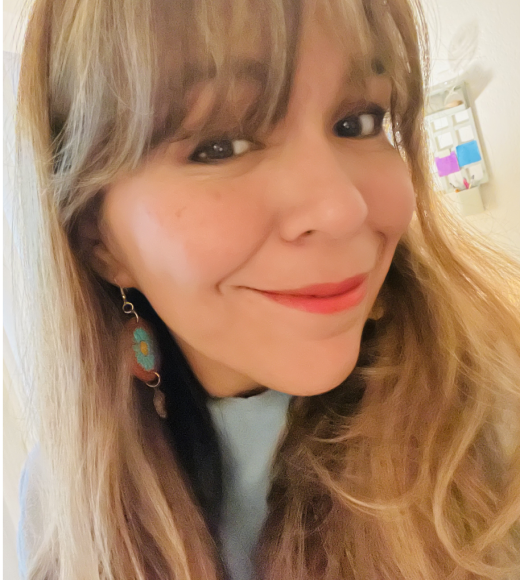 Position Title

Assistant Professor of Spanish
Office Hours
W23: Wednesdays 10:00-11:00 & by appointment
Bio
My current book project, Border Biomes: Ecological Imaginaries of American Migration Trails puts into dialogue the fields of border and migration studies with the environmental humanities. This manuscript examines how 20th and 21st-century Mexican, Mexican American, Chicanx, and Indigenous literature and art depict dynamic, unstable geographies that defy common notions of fixed, inanimate borders and become sites of encounters where ontological limits are questioned. With a focus on the Guatemala-Mexico and the Mexico-United States borderlands, this manuscript thinks through border forests, rivers, and deserts to argue that they are key figures that challenge rigid categorizations of territorial boundaries, memorialize and expose the intense entanglement of human and nonhuman entities against the backdrop of border demarcations, and defy and reimagine normative ways of coexistence with nonhuman worlds.
Education and Degree(s)
Cornell University, Ph.D.
Honors and Awards
2023-2024 Faculty Development Award. UC Davis Academic Affairs.
2023: CRAFT 2.0 Award. UC Davis Provost's Office and Dean of the College of Letters and Science.
2022-2023: National Endowment for the Humanities Planning Grant.
2022-2023: Faculty Research Fellowship. UC Davis Humanities Institute.
2021-2022: UC Humanities Research Institute Junior Faculty Workshop Grant. 
2020- present: Center for the Advancement of Multicultural Perspectives on Social Sciences, Arts, and Humanities (CAMPSSAH) Faculty Scholars Award. University of California, Davis. 
2020-2021: First Generation Faculty Learning Communities. Center for Educational Effectiveness, UC Davis. 
2018-2019: Grant for Doctoral Research in Sustainability and the Humanities. Cornell University, Society for the Humanities.
2019: President's Travel Fund for the Humanities Award. Cornell University, Society for the Humanities. 
2018: Latina/o Studies Research Grant. Cornell University, Latina/o Studies Program. 
2018: Mellon Urbanism Fellowship. Cornell University, Society for the Humanities.
Courses
SPA 168: Intro to Latinx Studies 
SPA 155: Mexican Novel
SPA 167: Borders in the Hispanic World 
SPA 175: Mexican Culture
SPA 230: Ecologies of Borders and Migration 
SPA 279: Bodies of Extraction: Crip Ecologies and Otherness in Mexican Narratives 
SPA 232: Latinx Speculative Fiction and the Planet
Research Interests & Expertise
20th/21st-Century Mexican, Central American, and Latinx Literatures and Cultures
Environmental Humanities: Animal Studies and Ecocriticism
Border and Migration Studies
Sound Studies
Visual Studies
Horror Studies
Publications
"Las mutaciones, de Jorge Comensal: una petroficción." Carátula. Winter 2023.
"El horror del duelo infantil en Veneno para las hadas, de Carlos Enrique Taboada." iMex. Winter, 2023.
"Planetariedad en El mal de la taiga de Cristina Rivera Garza." Romance Quarterly. Fall, 2022.
"The Sounds of the Desert: Lost Children Archive by Valeria Luiselli." Latin American Literary Review. Spring, 2021. 
"Wet-nurses and migrant nanas in Mexico's imaginary landscape." South of the Future: Speculative Biotechnologies and Care Markets in South Asia and Latin America. Eds. Anindita Banerjee and Debra Castillo. SUNY Press. 2020. 
"Las tierras arrasadas, de Emiliano Monge: la frontera en movimiento." Mester. University of California, Los Angeles. 2019. 
"Companion Species in Border Crossings: 'Mediodía de frontera' by Claudia Hernández." Ciberletras. Revista de crítica literaria y de cultura. Lehman College CUNY. 2019. 
Membership and Service
2022-2028 LLC Mexican Forum Executive Committee of the MLA
2022- Editorial Board Member of the Latin American Literary Review  
2021-2022: Graduate Studies Fellowship Review Committee, UC Davis 
2021-2022: Committee on Foreign Languages, UC Davis
2021-2022: Member of the Environmental Humanities Designated Emphasis Executive Committee, UC Davis 
2021-2023: Representative to the Assembly of the Academic Senate, UC Davis
2021-2023: Graduate Committee, Spanish and Portuguese Department, UC Davis 
2020-2021: Diversity, Equity, and Inclusion Committee, Spanish and Portuguese Department, UC Davis 
2020-2021: Undergraduate Committee, Spanish and Portuguese Department, UC Davis