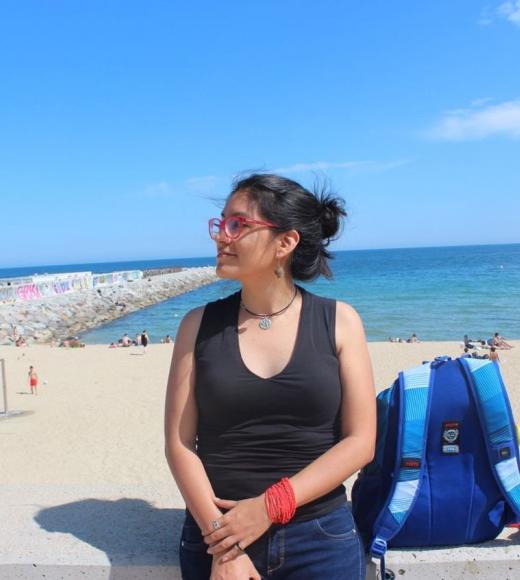 Position Title

Graduate Student in Spanish
Office Hours
In person, Monday 11:00am - 12:00pm / Thursday 13:10pm - 14:10pm
Education and Degree(s)
B.A. Literature, Universidad Nacional Mayor de San Marcos, Peru
M.A. Literature, Universidad Nacional Mayor de San Marcos, Peru
M.A. Spanish, Florida International University, Miami
Honors and Awards
Provost Fellowship in the Arts, Humanities and Social Sciences 2021-2022
Research Awards 2021. Master dissertation awarded as outstanding among researches presented between 2019-2020 at Universidad Nacional Mayor de San Marcos.
Research Interests & Expertise
Latin American literature and culture, 19th & 20th Century Peruvian Narrative, School story, Spiritism and new sciences, Identity and migration, Bilingualism and Pedagogy, Podcast and Digital humanities.
Publications
Torres Espinoza, J. (2021). "El Neocostumbrismo peruano (1885-1914): sinsabores de modernidad en Lima." Historia de las Literaturas en el Perú. Vol. III. Velázquez Castro, Marcel and Raquel Chang-Rodríguez (Collection directors); Velázquez Castro, Marcel and Francesca Denegri (Third volumen coordinators). Casa de la Literatura Peruana y Pontificia Unive
Torres Espinoza, J. (2020). "El coleccionista de libros de Abelardo Gamarra, El Tunante. Entrevista con Aladino Carbajal." Educaccion. Diálogo informado sobre políticas públicas. [Online]. Retrieved from https://www.educaccionperu.org/el-coleccionista-de-libros-de-abelardo-gamarra-el-tunante/
Torres Espinoza, J. (2019). "Abelardo Gamarra, El Tunante, y el protagonismo del migrante serrano en la Lima de Posguerra." Ni amar ni odiar con firmeza. Cultura y emociones en el Perú posbélico (1885-1925). Francesca Denegri (comp.). Pontificia Universidad Católica del Perú. pp.129-151.
Torres Espinoza, J. (2018). "Abelardo Gamarra y un lugar llamado Pelagatos (o los extramuros de la modernidad)." Revista Amerika [Online]. N°17. 2017. Autour de Manuel González Prada (Lima, 5 janvier 1844-Lima, 22 juillet 1918). Retrieved from https://journals.openedition.org/amerika/8215.
Torres Espinoza, J. (2018). "Abelardo Gamarra "El Tunante" y el narrador forastero en los artículos de costumbres en 'Rasgos de Pluma' (1875-1877)." Revista del Instituto Riva – Agüero. Vol. 3, N°. 1. pp.163-190. Retrieved from http://revistas.pucp.edu.pe/index.php/revistaira/article/view/19485.
Torres Espinoza, J. (2015) "¡Bajo Imperio! ¡Aquí estamos los bárbaros!: Cooperación cultural en conflicto en las primeras crónicas de César Vallejo." Miradas recíprocas entre Perú y Francia. Mónica Cárdenas (comp.). Universidad Ricardo Palma y Université Bordeaux Montaigne. pp.269-286.
Torres Espinoza, J. (2009). "Manuel Moncloa y Covarrubias y el artículo costumbrista en la prensa peruana de fines del siglo XIX." Boletín de Instituto Riva-Agüero. N°39. pp.243-272. Retrieved from http://repositorio.pucp.edu.pe/index/handle/123456789/114393