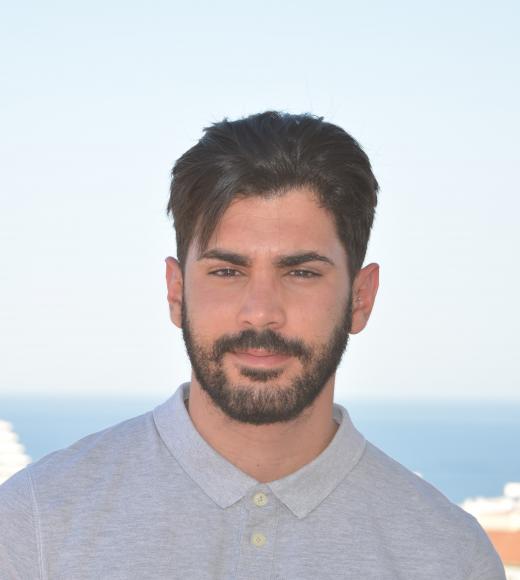 Position Title

Graduate student in Spanish
Education and Degree(s)
B.A. in Hispanic Philology, University of Malaga
M.A. in Spanish, University of Wyoming
Honors and Awards
Social Justice Center Research Grant, University of Wyoming, 2019.
Senior Year Undergraduate Research Grant, with the research Group VUM (Vernacular Urbano Malagueño), University of Malaga, 2018.
Courses
SPAN 1020 - Spanish 1st year (University of Wyoming)
SPAN 2040 - Spanish 2nd year (University of Wyoming)
SPAN 3040 - Spanish Conversation (University of Wyoming)
Research Interests & Expertise
Spanish Literature
Spanish contemporary cinema
19th and 20th Century Spanish literature
Representation of Andalusian accent in art
Conception of the movie script
Second language teaching
Pedagogy
Colloquial Spanish
Publications
- García-Cardona, Juan, (2020). "El español coloquial como estrategia pedagógica: rasgos y relación con el género discursivo en el aula universitaria", Revista de Filología y Lingüística de la Universidad de Costa Rica, 46(2). San José, Costa Rica.
- García-Cardona, Juan, & Checa-García, Irene, (2019). "La coloquialidad en la adaptación cinematográfica del texto teatral: una propuesta de estudio interdisciplinario con el ejemplo de Bajarse al moro", Trasvases entre la Literatura y el Cine, (1). Universidad de Málaga, Spain.
- García-Cardona, Juan, & García-Borrego, Manuel, (2019). "Técnicas docentes para la mejora de la educación universitaria: Una aproximación a la influencia de las estrategias lingüísticas", Congreso Universitario Internacional sobre Contenidos, Investigación, Innovación y Docencia, (Madrid, 2019).