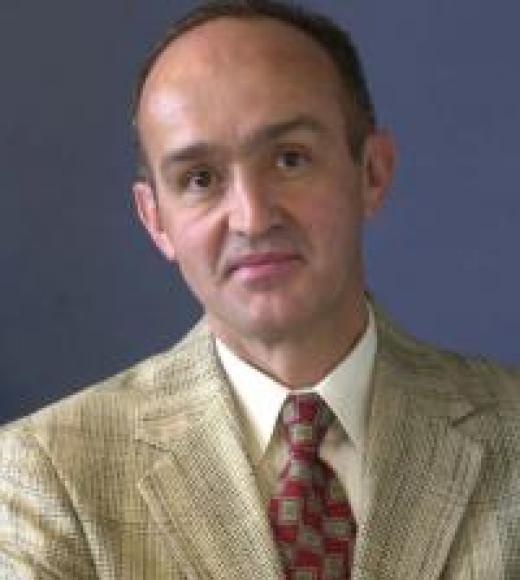 Position Title

Distinguished Professor of Spanish, The Russell F. and Jean H. Fiddyment Chair in Latin American Studies
Office Hours
TR 11:00am-12:00pm or by appt.
Bio
EDUCATION AND DEGREE(S)
Ph.D., University of Michigan, Ann Arbor
RESEARCH INTEREST(S)
Current Interest: Colonial and Modern Latin American Literature (Brazil and Spanish America)
Epic Poetry
Romanticism
Naturalism
Avant-Garde
Literature and the Visual Arts
Amazonian History and Literature
COURSE(S) TAUGHT
Spanish 100: Principles of Hispanic Literature and Criticism
Spanish 150N: Survey of Latin American Literature – 1500s to 1800s
Spanish 151: Survey of Latin American Literature – 1900s to Present
Spanish 153: Latin American Short Story
Spanish 154: Modern Spanish American Novel
Spanish 175: Literary Representations of Amazonia
Spanish 274: Spanish and Portuguese Chronicles of the Indies
Spanish 274: The Literary World of Jorge Luis Borges
Spanish 274: Latin American Epic
Spanish 274: The Regionalist Novel in Latin America
Spanish 274: The Literary World of Jorge Luis Borges
Spanish 274: The Regionalist Novel
Spanish 275: Chronicles of the West Indies
Spanish 274: Amazonia and the Jungle Novel
Portuguese 100: Principles of Luso-Brazilian Literature and Criticism
Portuguese 161: Brazilian Literature, Culture, and the Arts
Portuguese 163: 20th C. Masters of Brazilian Literature
Portuguese 162: Introduction to Brazilian Literature
Comparative Literature 152: Literatures of the Americas
SELECTED PUBLICATIONS
BOOKS
Euclides da Cunha: Ensaios e Inéditos. Co-edited with Felipe Rissato. São Paulo: Editora da Unesp, 2018.
Paraíso suspeito: a voragem amazônica (Suspect Paradise: The Amazonian Vortex). São Paulo: EDUSP, 2017.
Literatura a ciencia cierta: homenaje a Cedomil Goic (Literature As It Should Be: Homage to Cedomil Goic). Vol. containing 21 essays. Newark / Delaware: Juan de la Cuesta, 2011; 414 p. Co-edited with Tamara R. Williams.
Os sertões (Rebellion in the Backlands) by Euclides da Cunha. Annotated 4th edition. São Paulo: Ateliê Editorial, 2009.
Euclides da Cunha: poesia reunida (Euclides da Cunha: Collected Poetry). São Paulo: Editora UNESP, 2009; 492 p. Co-edited with Francisco Foot Hardman.
Discurso, ciência e controvérsia em Euclides da Cunha (Discourse, Science, and Controversy in Euclides da Cunha). Editor. Vol. containing 12 essays. São Paulo: EDUSP, 2008; 188 p.
"O Brasil, a América hispânica e o Caribe: abordagens comparativas." (Brazil, Spanish America, and the Caribbean: Comparative Approaches) Revista Iberoamericana 182-183 (January-June 1998).; 340p. Co-edited with Lúcia Helena Costigan.
A imitação dos sentidos: prógonos, contemporâneos e epígonos de Euclides da Cunha (Imitation of Meanings: An Intertextual Study of Rebellion in the Backlands by Euclides da Cunha). São Paulo: EDUSP, 1995.
Historia de un malentendido: un estudio transtextual de La guerra del fin del mundo de Mario Vargas Llosa (The History of a Misunderstanding: A Transtextual Study of M. Vargas Llosa's The War of the End of the World). New York/Bern/Frankfurt am Main/Paris: Peter Lang, 1989.

SELECTED ESSAYS
"Why is Roger Casement also Essential to Literary Fiction?", 2016 Lectures, Munira H. Mutran & Laura P. Z. Izarra (eds.). W. B Yeats Chair of Irish Studies. São Paulo: Humanitas, 2016, p. 155-173.
"History and Imagination in El sueño del celta by Mario Vargas Llosa." Breac – A Digital Journal of Irish Studies, 1 April 2016.
"Dante e Borges: imagens especulares e figurações do eu." Revista USP, 48 (2002): 120-133.
"Justiça poética na épica latino-americana moderna." Revista USP, 50 (2001): 238-246.
"Unfulfilled Promises: Epic and Hagiography in Hernado Domínguez Camargo's Poema Heroico." Calíope, IV, 1-2 (1998): 270-282.
"That Gentle Epic: Writing and Elegy in the Heroic Poetry of Cecília Meireles." Modern Language Notes 112 (1997): 201-218.
"Disfraces gongorinos en la poesía de Manuel Botelho de Oliveira," Cuadernos Hispanoamericanos 570 (1997): 73-94.
"O prazer da influência: John Gay, Bertolt Brecht Chico Buarque de Hollanda." Latin American Theatre Review (Spring 1994): 29-38.